Updated: It died a horrible death shortly after purchase. I'm guessing the amount of imbedded husky fur did it in and it pretty much leaked all over the place and refused to suck. We are downgrading to 1 paw.
I've owned quite a few steam cleaners out of necessity with huskies. For the most part I've tried to get the top of the line, ultra scrubber, ultra sucking models that cost a lot of money, only to have them succumb to the clots and clumps of hidden husky hair in the carpet that no amount of vacuuming will suck up.
After the nearly $300 Bissell Proheat steam cleaner died (fur had wrapped so tightly around a vital bolt that it cut the bolt in half, rendering it useless), I threw up my hands at expensive steam cleaners.
Generally I don't need a steam cleaner to clean the entire carpet, but one that is geared more to cleaning certain high traffic and "trouble" areas. After Sam's spine surgery, he's still leaky, so we have some pee areas that need to be dealt with on a regular basis, so dragging out the big steam cleaner for these spots is time consuming and overkill. Dragging out the Little Green Steam Cleaner for a larger high traffic area doesn't make sense, and is hard on the knees, so I wanted to find something in the middle of high end, to hand held.
Enter the
Bissell Quicksteam Powerbrush
. I went with a Bissell cleaner only because we had about 50 gallons of Bissell steam cleaning fluid left over and didn't want to dump that and buy new fluid. Yes, I realize that the manufacturer warnings all say to ONLY use their fluid, and I'm sure that's just marketing hype, but why chance it after blowing money on a new steam cleaner having the fluid ruin it before you get your money's worth out of it.
The Quicksteam Powerbrush got good reviews on epinions and other opinion sites, even from pet owners, but I've found that regular pet owners don't have the blizzard of fur to deal with as Northern Breed owners, and I take their reviews with a grain of salt. Cleaning after a Lab is nowhere close to the fur issues that a Northern Breed owner has to deal with.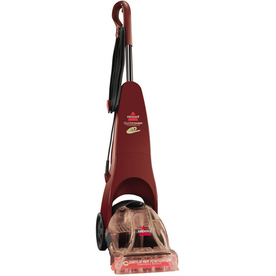 The Quicksteam Powerbrush is available locally (I got mine at Lowes) which is an added benefit, and it cost only $80. I figured that if it died on the first round of cleaning, I'd de-fur it and drag it back and mark it off as a no go.
The QP was easy to put together and seemed quite spindly and downright fragile. I didn't have high expectations for it.
The container for fluid and clean water pulls off the handle. A small dab of fluid and then fill the rest with warm water, plop the container back on the handle. The dirty water container is on the bottom and attaches with two flip locks. Until I got use to it, I could see where spillage would be a most definite possibility, but its actually easy to unhook and lift up without spilling, which is surprising.
Once put together and I had the fluid in, I went to work. Its loud and annoying. It almost sounds like its eating itself to death and that's a bit disconcerting, but it actually does an amazing job! Very light weight, easy to carry up and down the stairs, long cord to reach almost any spot, that sucker really sucks.
For a smaller machine, of course you'll have to dump and fill for a large room, but I was amazed at how well it sucked up the water from the carpet, it was actually much better than the more expensive Proheat in that regard.
What about the fur? Oh yeah, it sucked up a good amount of fur, but unlike the Proheat, which would spit out clumps of wet fur along the way, it just seemed to suck up what it could, and if it couldn't suck it up, it would collect on the brush and in the intake portion. After each dumping, I'd simply tip the machine back and reach in and pull out clumps of wet fur and wrestle the fur off the brush and it was ready to go again.
I've used it a few times and it keeps working just fine. Just remember to de-fur it after each dump. Except for the annoying noise it actually fun and very easy to use.
I fully expect it to die a horrible death much quicker than the Proheat, but for only $80-90, its easier to break it and replace it than having the more expensive steam cleaners only lasting a year.
I wouldn't recommend it for Northern Breed Owners, or any pet owners... or anyone for that matter. Save your money